April 18, 2013
Friends of Callan Park (FOCP) want to see the unique 'Harbour Bridge' War Memorial at Callan Park conserved and protected. The memorial is a replica of the Sydney Harbour Bridge and was completed in 1931, the year before the actual Sydney Harbour Bridge was opened.
It was unveiled by the Governor of NSW, Sir Philip Game, on 4 August 1931 on the Veterans site.The memorial is currently located in front of Repat B Ward on the southern side of the Waterfront Oval. Douglas Grant, an Indigenous WW1 veteran, designed the memorial and constructed it with the help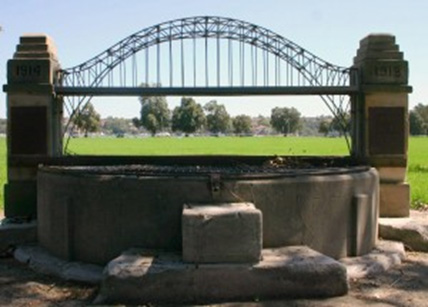 of other veterans residing in the Repatriation wards at Callan Park. A number of wards were built along the foreshore specifically for war veterans.
"Friends of Callan Park have been active in seeking the care, restoration and protection of this wonderful memorial to our ex-service personnel. We have arranged for temporary protection of the memorial but are seeking assistance from Council to ensure the appropriate ongoing recognition and protection of the memorial." according to the Acting President of FOCP, John Stamolis.
Many of the buildings in this part of Callan Park housed repatriation soldiers, men who returned from war suffering from shell shock – often described as chronic nerve cases.
Douglas Grant (of the 13th Battalion, like W. T. Shirley who built the Sphinx memorial at Turramurra) lived at Callan Park and built a replica of the Sydney Harbour Bridge as a War Memorial and, with other patients of B Ward, erected the Memorial.
On 4 August 1931, the 17th anniversary of the beginning of the war, the Governor, Sir Philip Game, unveiled the memorial. He declared it was a symbol of unity and hoped it would stand for years 'as an inspiration to you all to do what you did during the four years of the war, and have been doing ever since – sticking it out in the good old Australian and British way'. Patients applauded and the Governor planted a wattle.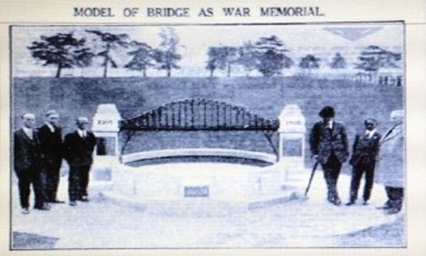 Douglas Grant was a man of Aboriginal parentage and white Australian upbringing who joined the AIF and became a prisoner at Bullecourt. After the war he worked as a labourer at Lithgow and was secretary of the loc
al RSL. Douglas Grant drank heavily and the cottages at Callan Park were a sanctuary for he and the other men of the Lost Legion.
He was bitter about the fate of returned soldiers and Aborigines and wrote about "A Broken Pledge".Extract from Sacred Places, War Memorials in the Australian Landscape, K. S. Inglis assisted by Jan Brazier, Miegunyah Press at Melbourne University Press, 1998, p243